Spoiler warning: Minor spoilers for Six of Crows, Crooked Kingdom, King of Scars and Rule of Wolves by Leigh Bardugo. Major spoilers for Adaptation and Inheritance by Malinda Lo.
Happy Pride Month!
This would maybe be a contentious post if strangers read my blog. In the off chance you are a stranger reading my blog, please allow me to clarify: Some of these characters do not explicitly identify as any particular sexuality. It's possible they would choose to identify as pansexual, queer, or something else entirely.
I'm choosing to call them bi because that's the label I've chosen for myself, and like all bisexuals, I'm greedy.
Also, this isn't a list of the best bisexual characters or characters I think provide the best representation. They're just my favorites, in no particular order …
Nina from Leigh Bardugo's Grishaverse
Nina is a controversial fat character. Her initial character traits are basically: gorgeous, powerful, likes sweets, dislikes physical exertion. Listed out like that, I get why she feels like a stereotype to some readers. (The fact that she's the only explicitly fat hero, and therefore has to stand in for all fat people doesn't help.)
However, as a fat person who likes sweets and used to dislike physical exertion, I like her. It's nice to see a fat character who's allowed to enjoy food and isn't made the butt of a joke for it. I didn't read her as glutenous or lazy. I read her as spoiled.
I like that Nina's confident in her size and her sexuality. I like that she remains fat over the course of two series, even when her appearance is magically altered so she can go undercover, which would have been a convenient excuse to make her thin. I like that she's allowed to be complicated and even unpleasant at times, and she's still seen as desirable.
Plus, her powers are cool as hell and she gets one of the best endings in the Grishaverse.
Dolly from Jennifer R. Donohue's Run with the Hunted series
Dolly is my girlfriend and I love her. She's a master thief in charge of weapons and vehicles for her found-family trio of lady criminals. On the outside, she's so tough she doesn't even have a favorite brand of cigarettes, because then she'd be disappointed in other cigarettes, and Dolly doesn't have the patience for that kind of weakness. On the inside, she's the marshmallow-sweet mom friend who carries her teammates when they're too weak to walk.
I'm seriously head-over-heels for Dolly. When I write Run with the Hunted fanfiction, it's going to be 90% loving descriptions of Dolly eating diner food, 10% descriptions of Dolly and her teammate Bristol kissing.
Reese from Adaptation by Malinda Lo
Hot take: Adaptation is superior to Ash in every way.
Am I just saying that because Reese gets to have a terrifying alien girlfriend and a sweet human boyfriend, and those are exactly my types?
ANYWAY, Reese is the opposite of Nina and Dolly, but just as controversial. A lot of readers complain she doesn't have much of a personality. I think it's more the case that Adaptation is a book about kissing nice human boys and scary alien girls, with a side of adventure, than a character-driven adventure novel.
I like Reese. Instead of a body count, she has a lot of normal teenage insecurities, which I found relatable as someone who was a painfully shy and insecure teenager. She isn't insecure about her sexuality, though. When she realizes she's attracted to both her debate partner, David, and her new friend Amber, she accepts it with the kind of nonchalance I wish were normal for more teenagers. And so do her parents! Wish fulfillment on top of wish fulfillment.
Danika Brown from Take a Hint, Dani Brown by Talia Hibbert
Talia Hibbert's Brown sisters books are my favorite contemporary romance series. Get a Life, Chloe Brown is the first and my favorite book of the series, because a difficult cat plays a prominent role, but Dani is my favorite human character in the series.
She's a graduate student and instructor in feminist literature who desperately wants to become a tenured professor as soon as possible. She's also (and I can only imagine how many "forced diversity" reviews Hibbert gets for this) a fat, bisexual, probably autistic, Black witch (as in the religion). Although Dani has some deep-seated romantic insecurities stemming from a bad breakup, she's confident in her intelligence, her sex appeal, and her fundamental worth in a way that feels really refreshing and cozy to read.
I do have some qualms about the way Dani's bisexuality is portrayed, but not because it's unrealistic. Her love interest initially believes she's a lesbian because "she talked about banging Janelle Monáe kind of a lot," and … uh, yep.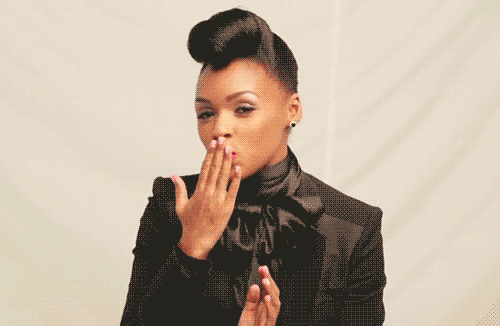 It's also important to note that Talia Hibbert is a queer woman, and even though Dani's romantic journey includes some bisexual stereotypes, the way Hibbert writes it is nuanced and compassionate. Not quite as nuanced as I'd like, maybe, but I think most bisexual readers will be satisfied.
Bi Books on My TBR
Okay, listen. Listen! I know that's a short list and they're all women, but I tried to come up with not-women bi characters, and everyone I could think of got buried or otherwise punished for their sexuality. Or they're Jesper, and I already have one Leigh Bardugo character on my list.
Here, let me make it up to you. Here are eight bi books I plan to read … eventually:
A Blade So Black by L. L. McKinney (Goodreads)
YA urban fantasy
Alice in Wonderland retelling featuring a cosplaying bi Black Alice who fights nightmares
McKinney also has a sapphic Jane Eyre retelling (!!!) called Escaping Mr. Rochester (!!!!!!) coming in 2022
One Ghosted, Twice Shy by Alyssa Cole (Goodreads)
Contemporary romance novella
Second-chance romance between two Black women, one of whom is the assistant to the prince of a fictional Wakanda-inspired country
The audiobook of A Princess in Theory, which precedes Once Ghosted, Twice Shy, has the best accents but also the sex scenes did almost kill me with their tonal dissonance
Seven Tears at High Tide by C. B. Lee (Goodreads)
YA fantasy
Bi Asian-American boy rescues a selkie boy on the Pacific coast
Rainbow Award Nominee for Bisexual Fantasy and Fantasy Romance (3rd place)
Girl, Serpent, Thorn by Melissa Bashardoust (Goodreads)
YA fantasy
Sapphic Persian-inspired Sleeping Beauty retelling featuring an Elsa-like princess whose touch is poisonous
I've seen it shelved as "creepy plants," and I don't know what that means yet but I'm excited
The Lady's Guide to Celestial Mechanics by Olivia Waite (Goodreads)
Historical romance
Widow recruits aspiring astronomer to fulfill her husband's legacy
I recently decided not to gift this to a friend because it's long and reportedly a slow burn, but sometimes you just want to luxuriate
Let's Call it a Doomsday by Katie Henry (Goodreads)
YA contemporary
"Ellis is scared about the end of the world; Hannah knows when it's going to happen"
With an anxious LDS bi-questioning protag, probably more of a post-quarantine read
Knit One, Girl Two by Shira Glassman (Goodreads)
Contemporary novella
Small-batch yarn dyer falls for wildlife painter
Supposed to be very fluffy and cute and Jewish
Who are your favorite bisexual characters?
Have you read any of the books on my TBR? Let me know your thoughts in the comments.